Here's a support harness that I heard about on a local radio station.
The Dog Support and Rehabilitation Harness
GingerLead (patent pending) is a harness that provides support and control for a dog recovering from surgery or suffering from a debilitating injury or condition.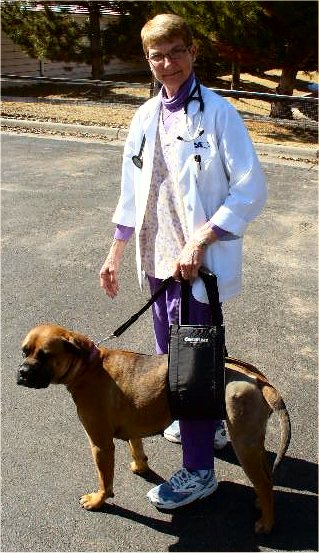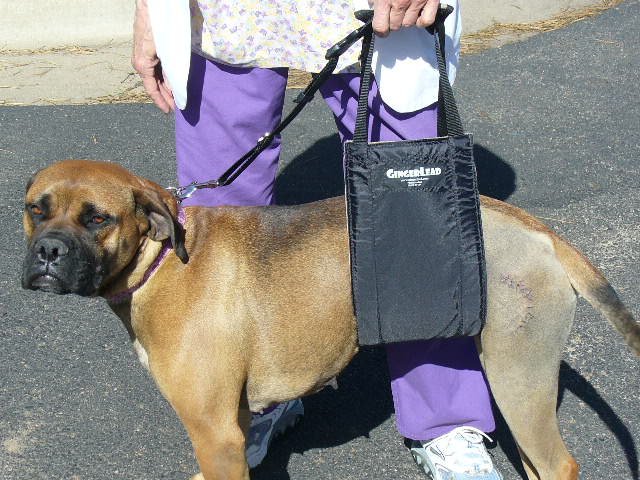 "The unique design of GingerLead allows the human handler to give substantial support to the hindquarters of the dog while maintaining control of the front end, all with one hand. We deal with giant breed dogs, and have found that the GingerLead offers much greater support and control than any combination of slings, towels and leashes. It is especially valuable for young, exuberant dogs who might cause injury to a freshly operated joint without adequate control. Great product!"
Rand Winton, D.V.M.
Chief Medical Officer
Big Dogs Huge Paws, Inc.
Dr. Winton takes Lola out for rehabilitation as part of her recovery from femoral head ostectomy (FHO) surgery
The GingerLead has a soft inner lining, where it comes into contact with a dog's skin or fur, and a durable exterior. It's easily used by passing the support pad under the belly and bringing the straps, which extend from each end of the support pad, together with the attached padded handle.
A leash strap extends from the handle and connects to your dog's collar with a snap hook, just like any other leash. The straps that extend from the support pad are adjustable as is the leash. The leash is also detachable.
GingerLead is available in male and female versions, machine washable and made in the U.S.A.
http://gingerlead.com/