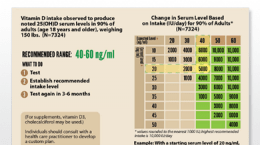 Grassrootshealth
When you take an effective amount of vitamin d daily the first thing that changes is your ability to absorb calcium, Moving from deficient or insufficient vitamin d to optimal more than doubles the amount of calcium your body absorbs from your diet. Therefore as you supplement with vitamin d3 you should be able to stop supplementing with calciium which is associated with increased risk of heart problems.
The Calcium Story - YouTube
Quote:
Originally Posted by
mellyd76

Could anyone suggest anything that could help with fatigue please?
When vitamin d levels increase so does muscle strength so you should have more energy.
It may also help is you supplement with magnesium instead of calciium, Most people don't have sufficient magnesium in their diets.
Daily magnesium supplements improve glucose handling which enables your body to access the energy in your foods better. Magnesium is also involved in improving the way vitamin d works in your body.